News
President Serzh Sargsyan visited the UK Embassy in Yerevan
15.06.2012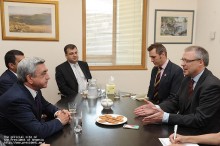 On the occasion of the National holiday of the United Kingdom of Great Britain and Northern Ireland - the official birthday of H.M. Queen Elizabeth II, President Serzh Sargsyan visited today the UK Embassy in Yerevan.
President Serzh Sargsyan congratulated Ambassador Jonathan James Aves and the staff of the Embassy on the occasion of Queen Elizabeth II's birthday and the 60th anniversary of her accession to the throne.
In his congratulatory remarks, President Serzh Sargsyan underscored that activities the Queen have earned her the love and respect not only of her subjects but of many nations all over the world.
The President of Armenia discussed with Ambassador Jonathan James Aves issues related to the development of the Armenian-British relations and expansion of bilateral cooperation.