News
PRESIDENT OF ARMENIA DISCUSSED WITH THE MINISTER OF CULTURE NEW INITIATIVES OF THE MINISTRY
29.11.2016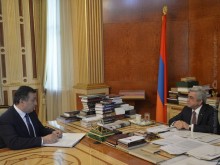 The Minister of Culture of Armenia Armen Amirian reported today to the President of the Republic on one of the priority areas of the Ministry – propagation and development of the Armenian culture in Armenia and abroad, new initiatives of the Ministry aimed at boosting the cultural life in the capital as well as in the regions of the country. The President spoke about this recently in his summary report at the 16th Convention of the Republican Party. Armen Amirian discussed with the President of Armenia opportunities to implement them and to present Armenia at its best through its culture on the international arena. The Minister also informed the President of the request of those working in the area of culture to meet with the President of Armenia. The President agreed with pleasure to meet and converse with them and noted that he too felt the necessity of such meeting since he has many questions and asked them to be prepared for a candid conversation.
Armen Amirian proposed to create an all-Armenian symphonic orchestra which will comprise our talented musicians performing in different corners of the world. According to Mr. Amirian, the first concert might be held on April 24, 2017 and then throughout the year, the orchestra would perform in a number of cities where the number of Armenians is considerable.
The President of Armenia welcomed the idea and underscored that it almost totally corresponds to his vision of Armenia-Spyurk cooperation and that he was sure that in a way it would also be symbolic: first of all, it signifies harmony, ability to work together and there is a change that the orchestra could become an example of a coherent and joint works for other areas.