News
PM Receives Heads of EEU-Member States Customs Agencies
30.11.2016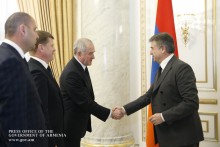 Prime Minister Karen Karapetyan received the heads of customs services of Eurasian Economic Union-member States who are in Armenia to attend the 21st meeting of the Council of Customs Services (CCS) of EEU-member States.
Welcoming the guests, the Prime Minister noted that meetings held in this format help enhance the effectiveness of cooperation between customs services and added that only through joint effort it will be possible to achieve increased competitiveness of national economies and ensure conditions for sustainable business development.
Attaching importance to the development of cooperation in the customs sphere, Karen Karapetyan stressed that it will help respond more quickly to problems and find mutually acceptable and effective solutions.
Noting that the draft Customs Code was agreed upon at the latest meeting of the EEU Intergovernmental Council, the Prime Minister expressed confidence that it will be one of the main documents of Eurasian Economic Union's normative-legal framework to enhance the efficiency of economic transactions and improve conditions for foreign economic activity.
The heads of EEU-member States' customs services thanked Prime Minister Karapetyan for hosting and high-level organization of the CCS meeting.
RF Federal Customs Service Head Vladimir Bulavin noted that the adoption of the EEU Customs Code will give new impetus to the development of integration processes, increase efficiency and transparency in the field of customs services and facilitate trade turnover.