News
Prime Minister Receives Chinese GSAFETY Company Delegation
16.12.2016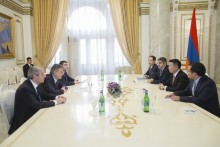 Prime Minister Karen Karapetyan received a delegation representing the Institute of Public Security Studies at Tsinghua University of China and Chinese GSAFETY Company, headed by GSAFETY management board member Xue Hailong.
The sides discussed prospects of cooperation in terms of security systems in the transport sector. In particular, they touched upon the development of the Smart Town project and the possibility for implementing it in one of Armenia's cities.
Xue Hailong presented the activities of the company and expressed willingness to cooperate in the field of public transport traffic management systems and traffic safety. Welcoming the Chinese company's willingness to participate in investment programs in our country, the Prime Minister said Armenia can become a good platform for GSAFETY to enter the EEU market.
Prime Minister Karapetyan suggested discussing cooperation areas and specific projects in more detail with the Ministry of Transport, Communications and Information Technologies of the Republic of Armenia.