News
PRESIDENT SERZH SARGSYAN PARTICIPATED AT THE SESSION OF THE CSTO COLLECTIVE SECURITY COUNCIL IN SAINT PETERSBURG
26.12.2016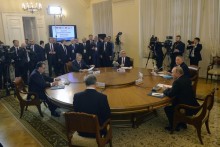 At the northern capital of the Russian Federation Saint Petersburg, today after the session of the Supreme Council of the Eurasian Economic Union there took place a session of the Collective Security Council of the Collective Security Treaty Organization (CSTO) in which President Serzh Sargsyan participated together with the Presidents of Kazakhstan, Kyrgyzstan, Russia, and Tajikistan.
The leaders of the member states discussed the current international issues and challenges, the ongoing activities of the Organization, and forthcoming programs.
Because of the absence of the President of Belarus and lack of a quorum, the issue related to the appointment of the Secretary General of the CSTO was postponed until the next session of the Collective Security Council which will take place in April, 2017.