News
PRESIDENT SERZH SARGSYAN OBSERVED THE GAMES AT ARMENIA'S CHESS ACADEMY AND CHESS HOUSE
15.01.2017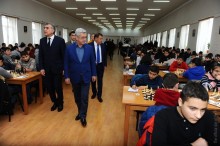 The President of Armenia, Chairman of Armenia's Chess Federation Serzh Sargsyan visited today Armenia's Chess Academy and observed the games of the 7th Chess Tournament dedicated to the memory of Andranik Margarian which commenced on January 8 and will conclude on January 16.
The Swiss Tournament is attended by 760 chess players from Armenia, Artsakh, Sweden, and Georgia.
Later, Serzh Sargsyan visited the Tigran Petrossian Chess House where on January 11 commenced Armenia's 77th championship for men and the 72nd championship for women. The tournament is conducted by the cyclic system. Ten players participate at the men's tournament, including 7 grand masters and 3 international masters. Among them the two-times Olympian Champion Tigran L. Petrossian, the World team Champion Robert Hovhannissian, the current Champion of Armenia Zaven Andriassian, the World Champion among the players under the age of 18 Manuel Petrossian, and the World Champion among the players under the age of 16 Hayk Martirossian. There are 10 chess players participating at the women's tournament, including 3 international masters. The winners of the championships will be included on the national teams.