News
PRESIDENT SERZH SARGSYAN RECEIVED DELEGATION HEADED BY THE VICE- PRESIDENT OF INDIA MOHAMMAD HAMID ANSARI
25.04.2017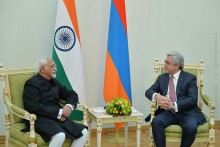 President Serzh Sargsyan received today delegation of the Vice-President of India, Chairperson of the Upper House of the Indian Parliament Mohammad Hamid Ansari who has arrived to Armenia on official visit.
The President welcomed the guests to Armenia and expressed hope that the official visit of the Vice-President of India to our country will give a new impetus to the centuries-long Armenian-Indian friendship. Speaking about the Armenian-Indian historical relations, President Sargsyan noted that back in 17-19 centuries Armenian communities already existed in India and played an active role in India's social, political, economic, and cultural life, including in Calcutta where Vice-President Mohammad Hamid Ansari was born.
The parties concurred that the millennia-long Armenian-Indian relations constitute a solid base for the strengthening of the interstate ties and expansion of the cooperation agenda in different areas. President Serzh Sargsyan and Vice-President Mohammad Hamid Ansari stressed the importance of high-level visits and active contacts on different levels, including between the legislative bodies of the two countries.
At the meeting, the Vice-President of India conveyed to President Sargsyan the message of the President of India Pranab Mukherjee with the invitation to conduct an official visit to India to discuss the agenda of the Armenian-Indian cooperation, opportunities and prospects for the deepening of the bilateral relations.
Besides the bilateral relations, the parties discussed also the situation in the region, existing challenges, the NK peace process, as well as pressing international issues.