News
MINISTER VAHAN MARTIROSSIAN REPORTED TO THE PRESIDENT ON THE STRUCTURAL CHANGES AT THE MINISTRY AND ONGOING PROGRAMS
03.05.2017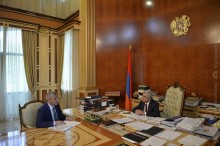 Today, at the working meeting with the President of Armenia, Minister of Transport, Communication and Information Technologies Vahan Martirossian reported on the structural changes at the Ministry, resolution of the problems existing in different areas coordinated by the Ministry, and the process of implementation of a number of programs.
In particular, Minister Martirossian reported on the maintenance and use of the state roads, events envisaged by the RA Five-year Road Safety Program (2017-2020), works on the creation of a consolidated railroad network in Armenia, steps aimed at the resolution of the problems related to passenger and cargo interstate transportation as well as the measures to ensure the uninterrupted shipping of goods, and the works envisaged by the concession agreement and aimed at the improvement of Armenia's railroad infrastructure.
Vahan Martirossian also reported on the works carried out by the Ministry and related to the resolution of the pressing issues which were revealed during President Sargsyan's visits to different regional communities.
At the meeting, discussed also was the issue of boosting the development of the area of information technologies, including the steps aimed at the financing of the startups working in the area, legal amendments related to the area of cybersecurity and works on the creation together with other agencies of the RA Center of Cybersecurity.
Minister Martirossian also presented to Serzh Sargsyan reforms aimed at the improvement of the postal services.
The President of Armenia assigned the Minister with pertinent tasks.