News
Government of Armenia, GS Inima Environment S.A. to cooperate in the field of improving water infrastructure
07.06.2017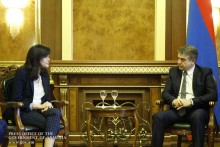 Attended by Prime Minister Karen Karapetyan, a memorandum of understanding was signed today between the Ministry of Energy Infrastructures and Natural Resource-affiliated State Water Management Committee and the Spanish GS Inima Environment S.A. company. The document was signed by Head of State Water Management Committee Arsen Harutyunyan and GS Inima Environment S.A. Chief Executive Officer Marta Verde Blaskez.
GS Inima Environment S.A is a leading water sector management company, engaged in the implementation of public-private partnership-based projects in 18 countries of the world.
The Memorandum of Understanding provides that the parties will cooperate in the field of improvement and development of water and wastewater infrastructures. Before the signing ceremony, Prime Minister Karen Karapetyan and GS Inima Environment S.A CEO Marta Verde Blaskez discussed the cooperation areas and issues of mutual interest.
Welcoming the cooperation, Karen Karapetyan highlighted the importance of the proposed joint activities and programs in the fields of water infrastructure and waste management, as well as in water supply and wastewater treatment industries.
Marta Verde Blaskez said GS Inima Environment S.A appreciates the Government's initiative and stands ready to cooperate in the aforementioned areas offering innovative solutions.