RPA in executive body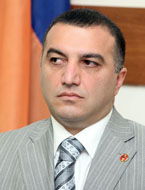 ASATRYAN Artem
Member of RPA Council
Born on May 23, 1972, Yerevan
1989-1994, Department of State Regulation of Economy, Yerevan Institute of National Economy
1995 -1997, School of Management (long-term training, 1st issue), "Public administration and local self-government" training, qualification of public servant
2000, Post-graduate school of management, economics PhD

1998, Armenia Pension and Employment Fund, Head of Benefits Division, Pension Insurance Department
1998-2006, Ministry of Social Protection, Head of Pension Insurance (as of January 2002, Pension Insurance and Social Security Department)
2006-2007, Ministry of Labor and Social Affairs, Director of National Institute of Labor and Social Research SNCO
2007-2011, Deputy Minister of Labor and Social Affairs
2011, By Prime Minister's decree of February 9, he was appointed to pluralize the post of Acting Head of State Social Security Service
2011, Under Prime Minister's decree of March 25, Head of State Social Security Service and Deputy Minister of Labor and Social Affairs
As of June 16, 2012, Minister of Labor and Social Affairs
A presidential decree was issued on May 8, 2013 to re-appoint him to Minister of Labor and Social Affairs
From April 26, 2014 re-elected Minister of Labor and Social Affairs
TrainingsMay, 2006, Swedish International Development Agency, SIDA, "Pension reform: long-term decisions" training course (2nd stage), Ukraine (Kiev)
2005, Swedish International Development Agency, SIDA, "Pension reform: long-term decisions," certificate of training (1st stage), Sweden, Stockholm
2005, "Pension reform: Bulgarian experience and regional prospects," training certificate, Bulgaria, Sofia
2004, Ukraine, Kiev, Academy for Educational Development, USAID: «individual social insurance card system, training certificate
2003, World Bank Institute, "Prospects for pension reform in the region," certificate of correspondence course
certificate
2002, World Bank Institute, "Pension reform: second generation and implementation issues," course certificate, Poland, Warsaw
2000. USA, Cambridge, Harvard University, "Pension systems crisis" training certificate
1999 - Austria, Vienna, Joint Vienna Institute, OECD, «Pension Policy and Pension Reform" training certificate
1999 Israel, International Institute - Histadrut, «Pension funds market economy" training certificate.

He is liable for military service, with the rank of sergeant. He has authored numerous scientific and research papers. For effective work in Armenia's public system, he was awarded the Presidential Medal of Anania Shirakatsi. He is civil service 1st class adviser.
Party Membership
Republican Party of Armenia

Married, with three children.