RPA in executive body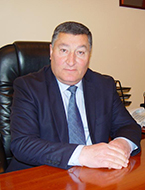 HAKOBYAN Andranik
Gegharkunik Deputy Governor, Member of RPA
Born on January 2, 1957 in Noratus village /Gegharkunik marz/.
1978 – Yerevan Institute of Russian and Foreign Languages named after V. Bryusov, Faculty of the English Language.
1978-2012 – Noratus secondary school N 1, teacher.
1980-1992 – Noratus secondary school, Deputy Head.
1992-1996 – Executive committee of Noratus Village Soviet, Chairman.
1996- Head of Noratus community.
1999, 2002, 2005 – Re-elected Head of Noratus community.
2009-2010 – Gavar State University.
Since August 2012 - Gegharkunik Deputy Governor.
2002-2008 – Congress of local and regional authorities of the Council of Europe, Member of the RA Delegation.
Predicated in international seminars within the frameworks of the community development projects and received certificates.
2006 – Awarded Medal by the RA Ministry on Territorial Administration.
2007 – Awarded Medal "Anania Shirakatsy".
Member of RPA.
Married, with one son, two daughters and eight grandchildren.