Welcome to the official website of the Republican Party of Armenia (RPA).
The Republican Party of Armenia is a national conservative party. Our objectives and mission are supported by the idea of eternity of the Nation and Homeland.

We do hope our website will provide you with all the necessary information on the party's ideological mission, its main objectives and participation in the country's public and political life, the main areas of performance, its achievements and accomplishments as well as future programs and activities.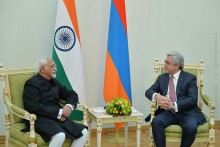 President Serzh Sargsyan received today delegation of the Vice-President of India, Chairperson of the Upper House of the Indian Parliament Mohammad Hamid Ansari who has arrived to Armenia on official visit. The President welcomed the guests to Armenia and expressed hope that the official...
more →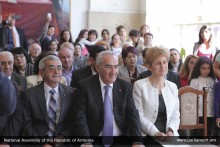 On April 25, the RA NA Speaker Galust Sahakyan took part in the event, which took place in Yerevan Peyo Yavorov Basic School N 131. Every year the school marks festival of culture, and according to formed tradition, calls one of the classrooms by the name of the Armenian people's...
more →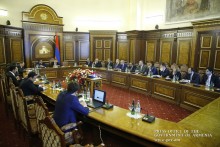 Prime Minister Karen Karapetyan received the representatives of the Armenia Development Initiatives (IDeA) Foundation, led by IDeA co-founder Ruben Vardanyan. The meeting discussed the Foundation's development programs and new initiatives relevant to various sectors. Prioritizing the...
more →