Welcome to the official website of the Republican Party of Armenia (RPA).
The Republican Party of Armenia is a national conservative party. Our objectives and mission are supported by the idea of eternity of the Nation and Homeland.

We do hope our website will provide you with all the necessary information on the party's ideological mission, its main objectives and participation in the country's public and political life, the main areas of performance, its achievements and accomplishments as well as future programs and activities.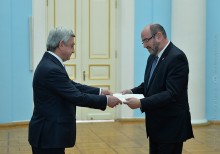 The newly appointed Ambassador Extraordinary and Plenipotentiary of Israel to Armenia Eliyahu Yerushalmi (residence in Jerusalem) presented his credentials to President Serzh Sargsyan. The President congratulated the Ambassador and underscored that the Armenian authorities stand ready to...
more →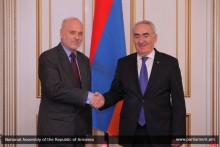 On March 22, the RA NA Speaker Galust Sahakyan received the Head of the OSCE/ODIHR Observation Mission Jan Petersen and the political analyst of the Mission Daniela Diaconu. Welcoming the Head of the Observation Mission in the RA National Assembly, Galust Sahakyan highlighted the activities...
more →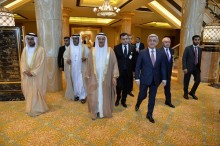 President Serzh Sargsyan, who is the United Arab Emirates on a working visit, participated today at the Armenia - United Arab Emirates investment forum. The forum is organized under the high auspices of the President of Armenia and the Crown Prince of Abu Dhabi Emirate, Deputy Supreme Commander...
more →