Welcome to the official website of the Republican Party of Armenia (RPA).
The Republican Party of Armenia is a national conservative party. Our objectives and mission are supported by the idea of eternity of the Nation and Homeland.

We do hope our website will provide you with all the necessary information on the party's ideological mission, its main objectives and participation in the country's public and political life, the main areas of performance, its achievements and accomplishments as well as future programs and activities.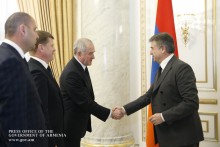 Prime Minister Karen Karapetyan received the heads of customs services of Eurasian Economic Union-member States who are in Armenia to attend the 21st meeting of the Council of Customs Services (CCS) of EEU-member States. Welcoming the guests, the Prime Minister noted that meetings held in...
more →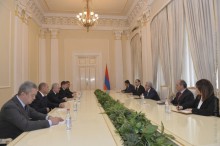 President Serzh Sargsyan received today Heads of delegations of the Customs agencies of the Eurasian Economic Union member states who have arrived to Armenia to participate at the 21st session of the Joint Board of the Customs agencies of the EEU member states. The President of Armenia...
more →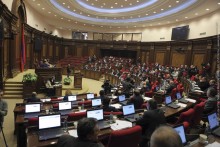 On November 30, the RA National Assembly continued the work of the extraordinary sitting convened on November 28 and by voting passed the RA draft laws Rule sof Procedure of the National Assembly and the on Activity Guarantees of the RA National Assembly Deputy debated in the first reading on...
more →