Youth Organization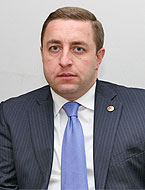 Chairman
Karen Avagyan
The Youth Organization of the Republican Party of Armenia was launched in 1991.
The activities of the RPA Youth Board are based on RPA programmes and the Charter.
The main lines of activities are:
Spreading the RPA ideology,
Military-patriotic education of young people,
Protection of interests of youth and students,
Raising and solving the problems of youth and students
Support to the formation of democratic, civil, national society,
Cooperation with acting youth organisations of RA, Diaspora, Artsakh, Javakhk, as well as with international youth organisations.
The Youth board of RPA is a member of:
National Council of Armenian Youth (NCAY)
Democratic Youth Community of Europe (DEMYC)
RPA Youth Organization cooperates with Chinese Communist Party Youth Organization, with United Russia "Young Guards" youth organization and with the youth organization of the European Peoples Party. RPA Youth Organiation is also in close cooperation with youth associations of a number of political parties and with NGOs.
Activities and agenda of the Youth Organization are coordinated and managed by its Council, which is composed of 11 members.
Members of the Council
Karen Avagyan
E-mail: avakkaren@yahoo.com
Hasmik Apyan
E-mail: hasmikapyan@yahoo.com
Hovhannes Gabrielyan
E-mail: hovhgabrielyan@gmail.com
Gevorgyan Armen
E-mail: yerevan.am@mail.ru; armen.gevorgyan@yerevan.am
Taron Parsamyan
E-mail: taronparsamyan@gmail.com
Armine Barseghyan
E-mail: armin-barsegyan@yandex.com
Mamijanyan Hayk
E-mail: mamijanyan@yahoo.com
Movsisyan Vahe
E-mail: vdarmanian@mail.ru
Beglaryan Lilit
E-mail: lilbeglaryan@yahoo.com
Soghomonyan Gevorg
E-mail: soghomonyan.gevorg@gmail.com
Poghosyan Arusyak
E-mail: arusyak.pogosyan@rambler.ru