Sports Commission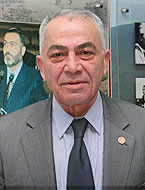 Chairman
Razmik Stepanyan
RPA Sports Commission acts in compliance with the Charter of the RPA and implements its activities based on the programs set by the Party Council.
Main priorities of the Commission:
Implementation of feasible projects aimed at enhancing the participation of RPA members in sports on daily basis, transforming sports into lifestyle and advocating for sports and healthy living.
Strengthening the links between Party members, RPA local organizations through arranging sport championships.
Development, enhancement and introduction of future draft projects and policies aimed at promoting sports and physical culture on a national level.
Promotion of government's efforts in tackling the major challenges in the sphere of sports and physical culture as set by the main provisions of the RPA electoral campaign.
RPA Council of Physical Culture and Sports is represented by 17 members:
Aleyan Gor - Head of Olympic sport-school, RA Ministry of Education and Science
Atoyan Stepan - Chief trainer of Yerevan Olympic Boxing sport-school, "Armenia" Sport Union
Barseghyan Rudik - Sport commentator, "Yerki Media" television centre
Khachikyan Rudik - Head of Vanadzor sport-school, "Armenia" Sport Union
Khanzratyan Gohar -Tennis trainer at Athletics and desk tennis sport-school, "Armenia" Sport Union
Stepanyan Razmik - Chairman of "Armenia" Sport Union
Petrosyan Smbat - Deputy chairman of "Armenia" Sport Union
Gabrielyan Hovhannes - National institute of education, RA Ministry of Education and Science, head of administration
Grigoryan Henrik - head of educational department, Yerevan Olympic athletics and desk tennis-school, "Armenia" Sport Union
Petrosyan Sokrat -Head of Yerevan Olympic wrestling sport-school, Armenia" Sport Union of
Mikayelyan Gagik - Head of Yerevan Olympic sambo-judo sport-school, "Armenia" Sport Union
Sharbatyan Martin -Organizer of Shengavit territorial organization
Mamikonyan Yura - Head of Sport and Youth Affairs Department, Yerevan Municipality
Hunanyan David - Head of Chess sport-school, Avan administrative district
Khachatryan Ashot - Head of Yerevan Olympic Cycling sport-school "Armenia" Sport Union
Yeritsyan Rudik - Chief trainer of Yerevan Olympic athletics and desk tennis sport-school, "Armenia" Sport Union
Yeghiazaryan Yasha -Head of Shengavit cycle racing school