Interviews
RA NA President Hovik Abrahamyan Congratulated the Representatives of the Mass Media on the Armenian Press Day
16.10.2012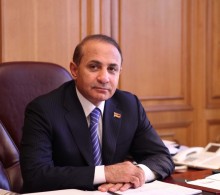 I congratulate all representatives of the Mass Media on the occasion of their professional holiday, Armenian Press Day.
218 years ago by publishing the first Armenian periodical "Azdarar" in the city of Madras in India the history of the Armenian printed press was launched, which continues until now as a lasting chronicle of times and events.
Due to the opportunities for our journalists' professional activity and their free work imposed by Constitution, today the Armenian press confidently implements its mission, becoming a free tribune of public moods and full source of information.
I am sure that along with the development of our state and establishment of civil society, which are impossible without practical participation of the Mass Media, the information field will become more inclusive, and the journalists will be more perfect in their professional work.
Once again congratulating all the employees of the Media I wish you health, resoluteness, welfare and optimism.