Interviews
Council sitting of RPA Kapan regional organization is held
20.02.2015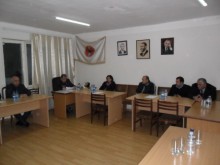 The council sitting of RPA Kapan regional organization was held. It was chaired by the Chairman of the regional organization R. Sargsyan. Mr. Sargsyan represented the following agenda:
1. Report of RPA Kapan regional organization on works carried out in 2014.
The agenda was unanimously approved by the participants. R. Sargsyan reported that according to article 4.5 of the Charter the initial organizations held reporting meetings from January 20 to February 15 and represented their reports on annual activities to the regional organization, which was estimated as satisfactory.
R.Sargsyan represented the activites carried out by the regional organization and a working plan for 2015.
Karen Mkrtchyan, Arayik Grigoryan, Ararat Karapetyan, Armen Karapetyan, Lernik Araqelyan and Romik Sargsyan made a speech at the sitting.