Interviews
PRESIDENT SERZH SARGSYAN ATTENDS OPENING OF ARMENIA EXPO 2015
19.09.2015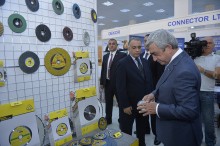 President Serzh Sargsyan attended today the opening of the annual Armenia Expo 2015 exhibition which was held at the Yerevan Expo Center of Yerevan Scientific Research Institute of Mathematical Machines CJSC.
For already 15 years, this regional universal trade-industrial exhibition has been uniting the largest domestic manufacturers (more than 100 companies, associations, unions and organizations) and industrial entrepreneurs. The exhibition gives the participants an opportunity to present their products, find beneficial partners or foreign investors (participating countries - Armenia, Russia, Belarus, Ukraine, Iran, Lithuania, Poland), as well as contributes to the implementation of a successful marketing campaign, and helps experts and businessmen familiarize themselves with the latest developments in industrial production, technologies and innovation systems.
The Armenian president toured the exhibition pavilions, familiarized himself with the product ranges of domestic manufacturers and industrial entrepreneurs, as well as with the displayed technologies and innovation systems. Serzh Sargsyan talked to some representatives of the participating companies about their achievements, problems and upcoming development programs.