News
Serzh Sargsyan received Vladimir Yakunin, Chairman of the Russian Railways Company
15.02.2012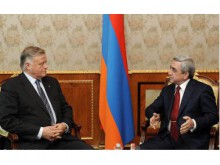 President Serzh Sargsyan received today Vladimir Yakunin, Chairman of the Russian Railways Company which has assumed concessional management of the Armenian railroad.
Vladimir Yakunin presented to the President of Armenia the newly appointed Director General of the South Caucasus Railways Company Victor Rebets and hailed his professional skills and working experience. President Sargsyan congratulated Victor Rebets on his appointment and wished him success. Serzh Sargsyan also expressed gratitude to the former Director General Shevket Shaidulin for efficient cooperation and works implemented during his tenure.
The parties spoke about the prospects of development of the Armenia railways and forthcoming programs.