News
Serzh Sargsyan received the newly appointed Head of OSCE Office in Yerevan, Ambassador Andrei Sorokin
16.02.2012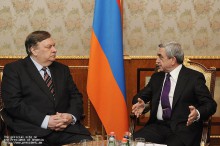 President Serzh Sargsyan received today the newly appointed Head of the Organization for Security and Co-operation in Europe (OSCE) Office in Yerevan, Ambassador Andrei Sorokin.
The President of Armenia congratulated Andrei Sorokin on his appointment and wished him productive work. He also expressed hope that through his activities A. Sorokin will promote cooperation and enhance relations between Armenia and OSCE.
The newly appointed Head of the OSCE Office in Yerevan assured that he and the staff of the Office will continue cooperation with the non-governmental and political organizations, as well as different state structures of Armenia, supporting reforms conducted in the country and its democratic development.