News
Serzh Sarsgyan received Ilka Laitinen, Head of the European Union's border agency Frontex
21.02.2012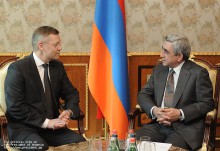 President Serzh Sarsgyan received today Ilka Laitinen, Head of the European Union's border agency Frontex - a specialized and independent body tasked to coordinate the operational cooperation between Member States in the field of border security.
The parties stressed the importance of the development of Armenia-EU cooperation, whose agenda, according to the parties, each year encompasses new areas. Noting that cooperation in the field of border security and border management is a priority for Armenia, the President stressed in that context the importance of the visit of the Head of Frontex to our country. Serzh Sargsyan underscored that in the framework of the reforms undertaken in this area, Armenia this year will take up comprehensive reconstruction of infrastructure and conduct works aimed at technical modernization and training of the personnel. President Sargsyan expressed hope that through the assistance of Frontex, these works will be successfully completed.
The Executive Director of the EU border agency Frontex noted with satisfaction that in the framework of the visit, the RA National Security Council staff and Frontex will sign an agreement on operational cooperation which will be equally useful for Armenia, Frontex and EU states.