News
Serzh Sargsyan received delegation of the Foreign Relations Commission of the European Parliament
22.02.2012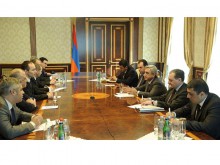 President Serzh Sargsyan received today delegation of the Foreign Relations Commission of the European Parliament, headed by the EP member Andrei Kovachev.
The President of Armenia welcomed and stressed the importance of the delegation's visit to Armenia, considering the mission of the members of the Commission who will be assisting in the drafting of the report on Armenia and the region. According to President Sargsyan, visits and contacts of the kind provide an excellent opportunity to see the situation first hand and shape an objective opinion.
The President of Armenia and members of the EP Foreign Relations Commission's delegation discussed the process of negotiations on the Armenia-EU Association Agreement, which were launched in July, 2010 and relevant issues. They also spoke about the forthcoming report on Armenia and the region.