News
President Serzh Sargsyan will conduct a working visit to Brussels
02.03.2012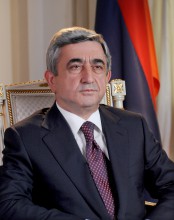 On March 5-7, President Serzh Sargsyan will conduct a working visit to Brussels.
In the framework of the visit, the President will participate at the NATO Council+ Armenia session and will make a statement at the Konrad Adenauer Foundation. In Brussels, Serzh Sargsyan will also have a number of meetings. He will meet with the Secretary General of NATO Anders Fogh Rasmussen, President of the European Commission Jose Manuel Barroso, President of the EU Council Herman Van Rampuy, President of the European Parliament Martin Schulz, EU Commissioner for Enlargement and European Neighborhood Policy Stefan Fule, President of the European People's Party Wilfried Martens. He is also expected to meet with the leadership of the Belgian Parliament.
The program of the President's visit includes also a meeting with the representative of the Armenian organizations of Belgium.