News
U.S. welcomes Armenia's political will to conduct fair elections
23.03.2012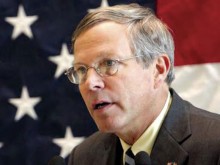 There is a progress in the pre-electoral period of Armenia, U.S. Ambassador to Armenia John Heffern said today at the "To Free and Democratic Elections" conference organized by the office of Armenia''s prosecutor general. "The pre-electoral processes are passing normally and both the authorities and the opposition have their role in it. From this viewpoint we rate high the creation of equal conditions and creation of opportunities," the ambassador said.
Heffern said the conduction of free and fair elections will help Armenia in reinforcing its position in the international arena. The ambassador assured that like during the past 20 years in future as well the United States will be ready to assist the country in the development and reinforcement of democracy.
"We welcome the statements of authorities over conduction of free, fair and democratic elections and their promises to examine the cases of frauds and punish the guilty," the U.S. ambassador said.
The parliamentary elections will be conducted May 6.