News
"Building Without Destroying" Exposition Kicks Off In Yerevan
16.04.2012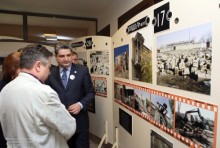 Prime Minister Tigran Sargsyan attended the opening of "Building without destroying" exposition in Yerevan's History Museum, which is held under the auspices of the Government.
Accompanied by the Mayor of Yerevan and the Minister of Culture, the Premier toured the premises, familiarizing himself with Haik Bianjyan-authored photo stories of several monument-buildings of Yerevan.
The exhibition features a draft master plan developed by architect Garegin Yeghoyan, implying implementation of new architectural projects at the site enclosed by Pushkin, Abovian streets and Sakharov Square downtown Yerevan, which provides for the preservation of historic buildings.
Touching on environmental and urban development issues during a meeting held with the residents of Erebuni administrative district on April 10, 2012, President Serzh Sargsyan noted, "We are proud of any detail which makes part of Yerevan's true image. Alas, much has been changed and distorted in the capital city over the past couple of decades. Economic interest has often prevailed over environmental concerns and architectural priorities. This is a sad reality. Today, we are changing the vectors, declaring that the economic priorities cannot overwhelm the architectural ones. I promise you that this trend will be reversed from now on. Moreover, we are going to pass a legislation ruling out any irregular development project downtown Yerevan. It appears to be obvious that there is a serious public concern for this problem. We will join you in this fight as we believe that the priority of maintaining the capital's originality shall finally prevail."
The above principles stated by the President, including the development challenges faced in Yerevan will be kept in focus by the Government, the Mayor's Office and the Ministry of Culture in order to preserve Yerevan's architectural features, address the shortfalls and break a new ground in this area.