News
Armenian Genocide commemorative ceremony took place in Moscow
24.04.2012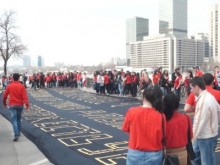 A ceremony dedicated to 97 anniversary of commemoration of Armenian Genocide was launched in the capital Moscow. The activists were gathered in front of the Ukraine called hotel wearing red shirts symbolizing the bloodshed of the innocent Armenians.
The participants with a minute of silence honored the memory of Armenian victims then took off shouting, announcing protest complaints against Turks. The Russian Armenians were carrying a huge poster, which ran. '' 1915 crime is always contemporary. The justice will win''.
The participants stated that they had intentions to once again draw attention of the Russia on the issue of Armenian genocide and made the world headed by Turkey recognize Armenian Genocide.
Andrey Hovsepyan Leader of the Youth Organization in Moscow stated that similar protest meetings are set to hold in coming days in the cultural, educational, political spheres in the frame of exhibitions, film shooting, and round table meetings. '' Our actions against Turkey will not be limited only with the range of these events.'' Hovsepyan highlighted.