News
Sevan is of high significance for Armenia: Chairman of Republican Party of Armenia
25.04.2012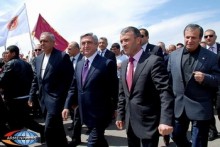 Lake Sevan is the treasure of Armenia, and its preservation is of primary importance for the republic, Chairman of Republican Party of Armenia (RPA), President Serzh Sargsyan told the residents of Gavar town in frame of the election campaign to Gegharkunik province.
"I am here to urge you to assist me again. It is impossible to achieve any goal without your support. Though many programs have not been accomplished yet, the most part of our programs are already on the way of implementation," said the RPA Chairman, assuring that the number of the issues must not be discouraging, but must help to achieve higher tops in future.
"We are going to be more persistent. These 4-5 years were not enough for fulfillment of the tasks we had indicated for us, but these years also laid a basis for goals, enabled us to govern our state in crisis conditions, which was a serious experience for us," said Serzh Sargsyan.
Speaking of the importance of Sevan for Gegharkunik province, Serzh Sargsyan stressed that it is of national significance, as "it is our pride and treasure". Hence, the issue of salvation of Sevan is a primary one," RPA leader said, adding that almost all the specialists of the world have arrived at the conclusion that in future water resources will become a very important circumstance. So, the attention paid to Sevan will only grow.
After the meeting with residents of Sevan, RPA Chairman visited a number of other communities of Gegharkunik as well.