News
The construction of the new motorway connecting Ulnetsi and Rubinyants streets is going to be over
21.10.2013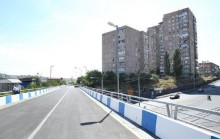 Taking into account the existing traffic congestion and its tendency to grow furthermore the programs of Yerevan development have included construction of new bypass roads, transport junctions and pedestrian crossings as well as large-scale well-arrangement of streets to improve significantly the situation with traffic putting all this into operation.
In this context the construction of the new motorway connecting Ulnetsi and Rubinyants streets will significantly relieve the traffic in David Anhakht-Ribinyants and Rubinyants-Sevak directions. The second stage of the program being carried out by two stages, has been completely over.
Within the frames of the project the railway bridge situated there has been reconstructed and expanded and now it is of 66 m length, 7.6 m width of traffic way and two-sided pedestrian sidewalks of 1 meter length. In parallel with motorway construction the sewage and rain drainage pipes have been changed due to which the problem of drinking water and sewage of more than 10 thousand residents living nearby has been solved. By the first stage of the project construction of sidewalks, headwalls concreting, improvement of the land areas surrounding the road and installation of external lighting are going on at the moment. 86 rod posts, 172 pillars with lamps will be placed along the whole road.
Soon the new motorway of 2,6 m length and 9 m width connecting Ulnetsi and Rubinyants streets will be completely passable.