News
PRESIDENT RECEIVED THE UNITED NATIONS UNDER-SECRETARY-GENERAL FOR POLITICAL AFFAIRS JEFFREY FELTMAN
11.04.2016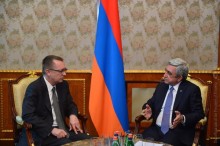 President Serzh Sargsyan received today the United Nations Under-Secretary-General for Political Affairs Jeffrey Feltman. At the beginning of the meeting, the parties discussed issues related to the stability and security in the region. Noting that the visit of Jeffrey Feltman coincided with a difficult period of time when security of the region is endangered once again, the President of Armenia spoke about the situation established at the NKR Line of Contact and underscored that after the establishment of a ceasefire in 1994, Azerbaijan has unleashed military actions and once again rudely violated a basic principle of non-use of force or threat to use force. President Sargsyan stressed the importance of Mr. Feltman's - a high-level representative of the structure primarily responsible for the international peace and stability, presence in the region in the existing circumstances. According to the President of Armenia, Mr. Feltman's visit to Armenia and other countries of the region will allow after conducting meetings to form a precise and clear picture of the situation.
Jeffrey Feltman noted that the UN adheres to the exclusively peaceful resolution of the NK conflict and stressed the role of the OSCE Minsk Group as the agreed format for achieving a peaceful solution.
At the meeting discussed was also the Armenia-UN cooperation. Jeffrey Feltman noted that the UN attaches importance to the role played by Armenia in the Organization, particularly with regard to the implementation of the UN Charter and principles.
President Sargsyan reiterated Armenia's readiness to continue active involvement with the United Nations and its structures. In the context of the Armenia-UN cooperation, the parties stressed the importance of the program carried out by the UNDP on the modernization of the border checkpoints in Armenia as a good example of cooperation.