News
Yerevan Municipality will go on active cooperation with partner districts and communities of Artsakh
11.04.2016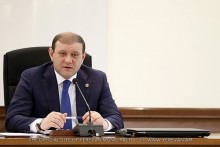 The regular weekly working meeting in the City Hall was chaired by Mayor Taron Margaryan. Before starting the discussion,those present kept a minute of silence in memory of the Armenian sons fallen at the front line.
Because of tension increase in the contact line active cooperation with the communities and partner tons of the NKR was carried out. Mayor's Advisor Arayik Kotanjyan reported that the previous week food products, necessary items as well as building materials had been sent to the partner towns of NKR by the staffs of the heads of the 12 administrative districts,
Mayor Taron Margaryan instructed to go on keeping active feedback with the Operative headquarters formed by the NKR Government as well as with partner districts and communities of Karabakh to provide additional aid when necessary. The head of Social Welfare Department reported that the representatives of the Municipality every day visit the wounded servicemen and azatamartiks getting their treatment at Yerevan medical establishments. The families of the servicemen from Yerevan are also visited. During the visits the municipal employees specify their needs and provide appropriate support.
Mayor Taron Margaryan instructed to keep at particular focus the families of the servicemen fallen at the front line and to show them overall support.