News
The Nagorno-Karabakh Conflict was discussed during DEMYC seminars held in Macedonia
12.04.2016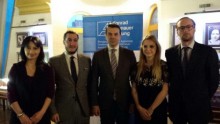 On 7-11 April at the capital of Macedonia Skopje seminars were held on the initiative of the Democrat Youth Community of Europe /DEMYC/. The topic of the program was "Digital Europe". The Youth Organization of the Republican Party of Armenia actively participated in the initiative. The aim of the program was to raise problems and challenges of the countries with which political forces of the member states would co-operate in the coming years during their activity, as well as through joint efforts try to solve the generation gap in political processes, find solutions to the problem of unemployment within the frameworks of the digital agenda.
At the course of the seminars discussions were held concerning the political culture of Europe, establishment of stability and migration crises.
After the thematic reports the Chairman of the Committee on Foreign Relations of RPA Youth Organization Lilit Beglaryan, who was elected DEMYC Vice-President during DEMYC 25th Conference, spoke about the Nagorno-Karabakh Conflict, presented the historical truth, consequences of the unreasonable policy led by the Azerbaijani side, and undeniable vandalism committed by them. The problem was discussed and will be discussed in the coming meetings of DEMYC.