News
PRESIDENT RECEIVED THE CHAIRMAN OF THE CIS INTERSTATE ANTI-MONOPOLY COUNCIL IGOR ARTEMYEV
13.04.2016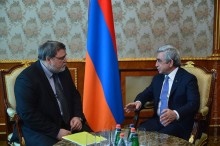 President Serzh Sargsyan received today the Chairman of the CIS Interstate Anti-monopoly Council, Head of the Anti-monopoly Service of the Russian Federation Igor Artemyev. The parties discussed issues pertinent to the efficient fight against the problems existing in the anti-monopoly area of the two countries and stressed the importance of joint activities in finding workable solutions.
Igor Artemyev present to the President of Armenia works conducted in the structure headed by him. He also spoke about steps which are aimed at the creation of the most favorable conditions for the Armenian export companies at the Russian market.
Discussed were also issues related to the agenda of the meeting in the extended format on the anti-monopoly policy in the CIS and EEU countries. The meeting will take place tomorrow in Yerevan.