News
PM issues instruction to create a sustainable source of income for families of persons killed in military operations
15.04.2016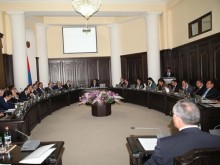 A regular Cabinet meeting was held today, chaired by Prime Minister Hovik Abrahamyan.
Before proceeding to the discussion of the agenda of the Prime Minister instructed the Ministry of Economy as follows: "I am instructing the Minister of Economy to create a sustainable source of income for families of persons who were killed during military operations. I further instruct the Ministry to develop and submit a comprehensive proposal to the government, citing financial sources. Mr. Minasyan, make a decision over the term and inform us as soon as possible."
The government adopted the "Decision on implementation of the provisions of the agreement between the Government of the Republic of Armenia and the Government of the Russian Federation on the extension of a State export loan to the Government of the Republic of Armenia." Accordingly, the Minister of Finance was tasked to control the fulfillment of the commitments assumed by the Armenian side under the agreement.
The Defense Minister was instructed to clarify the list of modern arms and military equipment to be provided to Armenia, as well as to discuss with the relevant Russian authorities (including the Federal Service of the Russian military-technical cooperation with the Rosoboronexport JSC) and sign a contract for the supply of military products under the agreement, reflecting supply volumes, dates and prices.
According to the provisions of Article 7 of the agreement, the Central Bank Chairman was proposed to complete with the Russian Vnesheconombank registration activities and sign an agreement on the conduct of technical estimates by April 29, 2016, and inform the Ministry of Finance and the Ministry of Defense within five days of registration of the agreement and the technical maintenance procedure.
The government approved Armenia's 2016-2020 strategy of emergency medical aid and services. It is recommended to set the strategic direction and actions required to achieve them, in particular, to improve the legislative framework regulating the ambulance service, develop modern organizational models of ambulance service.
To provide housing for families left homeless in Akhuryan community of Shirak marz due to the 1988 earthquake, the Executive made redistributions in the 2016 State budget, amending one of the earlier decisions.
The meeting adopted a decision to streamline the process of issuing driving licenses for Syrian Arab Republic citizens of Armenian origin until December 31, 2016. According to the study, driving licenses issued in Syria do not meet the requirements of the Convention on Road Traffic of November 8, 1968, and therefore, cannot be applied in the Republic of Armenia. The exchange is also prohibited. The decision will help settle the existing problems.
The government adopted a decree On State Duty Franchise Tax, deciding that those foreign citizens arriving in Armenia as part of official delegations to attend the second global social-political conference "Against the crime of genocide," due on April 23, 2016 in Yerevan, shall be exempt from visa issuance state fees.