News
PM Receives Delegation Led by SAP Global Network Vice President
18.04.2016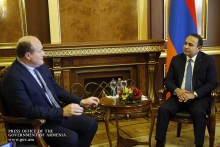 Prime Minister Hovik Abrahamyan received a delegation led by Joost Tigelaar, Global Vice President at well-known German SAP Company, which provides software support for businesses worldwide.
Hovik Abrahamyan said the IT sector is one of the priorities of his government, which is trying to support the development and use of Armenia's great IT potential. The Premier stressed the importance of continued development of high technologies in our country, adding that tax incentives were provided to IT startups last year. Hovik Abrahamyan welcomed SAP's initiative to get involved in Armenia and expressed his government's all-out support for the Company's programs.
Thanking the Prime Minister for the reception, Joost Tigelaar advised that SAP's activities will be aimed at promoting the IT sector and developing small and medium enterprise in Armenia. Emphasizing that SMEs have good development opportunities in our country, Mr Tigelaar said his company is going to make investments in our country that will also help create several new jobs.