News
PRESIDENT RECEIVED DIRECTOR GENERAL OF THE UNIVERSAL POSTAL UNION
18.04.2016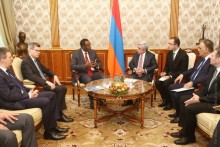 President Serzh Sargsyan received today the Director General of the Universal Postal Union Bishar Abdirahman Hussein and his delegation comprising Chairman of the Post Europe Management Board Jean-Paul Forceville and Secretary General Botond Scheben. The President of Armenia welcomed the guests who have arrived to Yerevan to participate at the regular meeting of the Union of the National Postal Operators of Europe.
Serzh Sargsyan stressed the importance of the Universal Postal Union in the development of global communications which back in the 19th century became a foundation for the creation of the postal system, enhancing ties between different nations and peoples, introducing to each other civilizations bearers of different cultures and values. Noting that Armenia became a member of the large universal postal family over 25 years ago, the President of Armenia stressed that the membership has greatly promoted development and modernization in our country of postal services. President Sargsyan said that the convening in Yerevan of this meeting is a good opportunity to learn firsthand about Armenia's achievements in this area, exchange experience, and assess Armenia's national postal operator Haypost's work, as well as to think over future development programs.
The Director General of the Universal Postal Union thanked the President of Armenia for the hospitality and opportunity to convene the conference of the Union of the National Postal Operators of Europe in Armenia. He presented the objectives of the Conference and mission of the Organization headed by him, and spoke about cooperation with Haypost. He also assured that the Universal Postal Union will continue its assistance to the national postal operator of Armenia thus promoting its development, considering the fact that in the rapidly changing world new opportunities arise for the introduction of the innovative approaches in the area of postal services as well.