News
IN ARTSAKH, PRESIDENT SERZH SARGSYAN HANDED HIGH STATE AWARDS TO THE SOLDIERS OF FATHERLAND
19.04.2016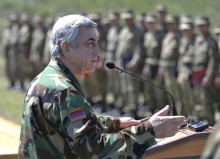 Today, the President of the Republic of Armenia Serzh Sargsyan and President of NKR Bako Sahakian in Karabakh visited one of the military units of the Defense Army and handed state awards to a number of servicemen who during the military offensive unleashed by the enemy on April 2-5 demonstrated courage and valor in defending the state border of the Republic of Nagorno Karabakh.
For the exceptional courage, selfless valor and boundless dedication in defending borders of Fatherland, the First Degree Military Cross was awarded to the Head of the N unit Colonel Genadi Baghdassarian, Deputy Head of the military unit Colonel Ararat Melkumian, regiment Commander Lieutenant Colonel Artyom Gevorkian, battalion Commander Mayor Edik Maloyan, company Commander Mayor Ararat Baghdassarian, serviceman of the unit Sergeant Marat Petrossian.
The Second Degree Combat Cross was awarded to Deputy Commander of N unit Colonel Norayr Aslanian, Deputy Commander Colonel Sergei Arustamian, Commander Lieutenant Colonel Martin Jhangirian, Head of service Mayor Aram Poghossian, Deputy Commander Mayor Arthur Hovsepian, regiment Commander Captain Arman Adamian, regiment Commander First Lieutenant Roman Adamian, Deputy Commander of the unit group Junior Sergeant Razmik Gasparian, serviceman Sergeant Shuli Hakopian, serviceman Junior Sergeant Arthur Aghassian, serviceman Private Harutyun Badalian, serviceman Private Narek Malkhassian.
The Medal for Valor was awarded to Head of the N unit Lieutenant Colonel Vrezh Grigorian, company Commander Lieutenant Colonel Kamsar Harutyunian, Division Commander Mayor Aksel Grigorian, regiment Deputy Commander Mayor Haik Galstian, regiment Deputy Commander Captain Eduart Telian, a physician Lieutenant of Medical Service Armen Babayan, contract serviceman Sergeant Mher Ayvazian, contract serviceman Private Smbat Baghdassarian, serviceman Private Vahan Samsonian, contract serviceman Private Yurida Gabrielian, medical staffer Master Sergean Alik Hairapetian, serviceman Private Suren Nersissian, serviceman Junior Sergeant Vrezh Bznuni, serviceman Private Gevork Manukian.
The Combat Service Medal was awarded to the regiment Deputy Head of N military unit Captain Araik Poghossian, group Commander Lieutenant Robert Baghian, contract serviceman Private Rudik Malkhassian.
President Serzh Sargsyan thanked Soldiers of Fatherland and wished them safe term of duty.
"Officer and Soldiers,
You have once again showed what means the Armenian Soldier, who the Solder of Fatherland is. When it is necessary to fight, you become the most disciplined, the most ingenious, and the most combat ready troops. I said years ago that if we were forced to fight, today's troops and officers will fight not less courageously than their fathers, their grandfathers, their older friends. You have proved that you are much more combat ready, much more courageous, and much more formidable. Times changes and war practices change too but the moral and psychological qualities remain the same. They remain the same and they prevail. Soldier has nothing to tell his foe; soldier speaks to the foe on the battlefield and glory to you and in your persons to all our officers and troops who have been able to make their statement. On those brutal days not a single soldier or officer ever left his combat position and fought selflessly to the very end. One cannot help but be proud of the soldier who after firing the last bullet and being wounded himself exploded a grenade to take with him the enemy soldiers too. What else can be called the soldier who fired a fire-gun and destroyed the enemy's helicopter if not ingenuous? The soldier who at the battlefield was able to destroy five armored vehicles makes us proud. You have been doing you duty well. Painfully, war is a very cruel thing. Not everyone will see in their life the results of their work, the fruits of their labor and will not know that we are proud of them. Glory to all our soldiers and officers who fell during these days; glory to those who during these 25 years fell for our freedom and our independence. Life of every soldier, every officer is precious to us, while in Azerbaijan to satisfy their political ambitions, they are ready to send to death hundreds, thousands of soldiers. They teach their troops different things; they take pride in their troops who cut off ears of the dead enemy, that is, of our soldiers and officers; they see as quite normal when members of their special force – it's impossible to call them soldiers – cut off the ears of 90-year old people. They cannot be called normal troops; rearing like that will make them no good. Such a style is inherent in terrorists' line of conduct. Terrorist derives from "terror", which means they want to terrorize us, to scare us but they will fail. We are scared of only one thing – to be not free, without honor. We will never be.
Glory to you, Soldiers of Fatherland, glory to our fallen, glory to our Army. I don't doubt for an instant that we all, everyone at his own place will fulfill duties of the Soldiers of Fatherland and these duties are sacred. I wish you safe term of duty, even though in wartime such a wish sounds a little odd. Glory to your parents, to you families which gave you life and raised you, glory to your tutors. Thank you all," said President Serzh Sargsyan.
Later, the Presidents of two Armenian Republics visited the Central Military Hospital of Stepanakert where serviceman Junior Sergean Vrezh Bznuni, who was awarded the Medal of Valor is being treated. The President of Armenia handed him his high state award, thanked him and wished a speedy recovery. At the military hospital, Presidents Serzh Sargsyan and Bako Sahakian visited also other servicemen treated here.