News
Nagorno-Karabakh Conflict was touched upon at the seminar on "Armenia and the future of the Eastern Partnership", held with young Republicans
22.04.2016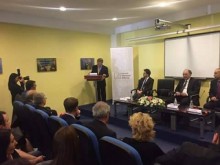 On April 22 at YSU Main Building young Republicans held a meeting with the Member of the Bundestag, Member of the Committee on Foreign Relations Dr. Christoph Bergner. The meeting was organized by the Konrad-Adenauer-Stiftung (KAS). The topic was "Armenia and the future of the Eastern Partnership".
At the course of the meeting the Bundestag Member spoke about the Eastern Partnership, the importance of Armenia's membership, opportunities and perspectives of co-operation, Armenia-EU relations etc. The Nagorno-Karabakh Conflict, as well as the recent war between Karabakh and Azerbaijan was also touched upon. The Member of the Bundestag represented his, as well as international community's positions on these issues. He also spoke about the Armenian-Russian relations, the role and importance of Russia.
The young people asked questions concerning the Resolution on the Armenian Genocide to be discussed in the Bundestag.