News
Member of RPA Youth Organization called for condemnation of genocide actions and violation of human rights at EDS Council meeting
28.04.2016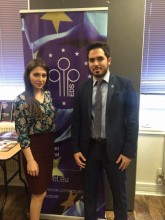 EDS Council Meeting has been recently held, where RPA Youth Organization was represented by Anna Mkrtchyan. The meeting was held under the theme "The rise of Populism: Its cause and implications for the European Project".
Issues concerning the changes occuring in Europe, economy, security and threat of therrorism were discussed at the course of the meeting.
Discussions were held in EDS working groups "Higher education and research", "Policies for Europe", "Human rights". As a result of the discussions resolutions were adopted concerning the rise of populism, further stranghtening of the Eastern Partnership, international education etc.
Within the frameworks of the meeting the RPA Reprsentative made a speech, touching upon the issues of the Armenian Genocide and the consequences of the recent 4-day war between Karabakh and Azerbaijan. She called on all presents and their organizations to prevent actions and attemts directed towards the violation of human rights and international law, to condemn adventurisms threthening the life of peaceful civilians, thus minimizing the risk of further crimes.