News
It has been instructed to submit proposals concerning trade regulation in the area of «Vernissage»
02.05.2016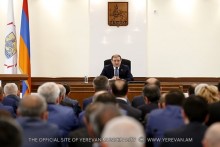 During the working meeting, within the frames of the program of improvement and modernization of «Vernissage», Mayor Taron Margaryan instructed to discuss the issue of trade regulation in the area of «Vernissage» with the administrative districts of the capital, with the departments of Municipality and the members of the Council of Elders.
«In parallel with the improvement of the area we must regulate the issue of trade in this area. Definite decisions are to be made so that later we will be able to present our requirements to the leasers and to watch their implementation", said the Mayor.
The Chief Designer of Yerevan reported that decoration of yard areas and painting of the metallic constructions there had been started. The mayor instructed to start the process of renovation of the benches and dustbins in the streets.
At the end of the working meeting the Department of Culture and Tourism and the Department of External Design and Advertising were instructed by the Mayor to start preparations for the Victory Day, Day of Shushi Deliberation, as well as to the Day of the First Armenian Republic.