News
Galust Sahakyan's Congratulatory Message on World Press Freedom Day
03.05.2016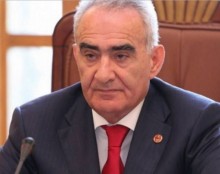 The RA National Assembly President's congratulatory message reads:
"Dear representatives of the media, I congratulate you on World Press Freedom Day.
In different corners of the world the certain part of the phenomena and events taking place and containing violence or intolerance are directed against freedom – freedom of living, freedom of thinking, acting and, of course, freedom of speech. Freedom is not completely guaranteed both in hot spots and even in the most democratic and the most civilized perceiving societies, the very first witnesses and recorders are the journalists, sometimes providing the awareness of the society and the right to free speech also at the price of their freedom and, unfortunately, also at the price of their life.
Along with the history of state the history of press functioning in it is also written. This year along with the 25th anniversary of Armenia's freedom the quarter century of the history of the freedom of the Armenian press marks, though some media even are older than our independence. All of them are the chroniclers of the modern history of our country, which regardless of sounding assessments, are free in their way of thinking and work style, are free in their choice, and with different comprehensions of freedom have united comprehension about the importance of Motherland and statehood. It was like that during first days and the whole period of Artsakh War, it has been like that since the first day of nowadays war.
In terms of democratic state and civil society the free speech has the most important significance both in developing countries and there, where sometimes assessments sound about the level of freedom of speech and democracy in those countries. As an honour to the media being an inseparable part of our society and the process of its development, we can record that the free speech is preferable and appraisable, ringing and instructive among us.
Once again congratulating on World Press Freedom Day I wish you, dear representatives of mass media, peace, optimism, welfare and all the best."