News
NEW APPOINTED AMBASSADOR OF TAJIKISTAN PRESENTED HIS CREDENTIALS TO THE PRESIDENT
03.05.2016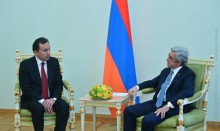 Today, the newly appointed Ambassador Extraordinary and Plenipotentiary of the Republic of Tajikistan to the Republic of Armenia Imomuddin Sattorov (residence in Moscow) presented his credentials to President Serzh Sargsyan.
The President congratulated the Ambassador on assuming his duties and wished him success. Serzh Sargsyan expressed hope that during his tenure in Armenia Ambassador Sattorov will employ his abilities and experience to deepen relations between Armenia and Tajikistan and develop cooperation in different areas.
The President of Armenia and Ambassador of Tajikistan spoke also about a more active cooperation in the framework of international organizations. The President of Armenia stressed the importance of developing relations between Armenia and Tajikistan as members of the CSTO, based on the common goals of the Organization and principles adopted by its members.
The parties discussed possibilities to develop relations in the political, economic, humanitarian and other areas.
The Ambassador of Tajikistan assured that he would do his best to strengthen and deepen the Armenian-Tajik relations and with this regard stressed the importance of expanding the legal field and said that he has already been working actively in that direction.