News
Yerevan Mayor met with the Ambassador Extraordinary and Plenipotentiary of the Republic of India to the Republic of Armenia Suresh Babu
03.05.2016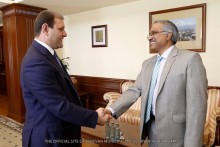 Yerevan Mayor Taron Margaryan met with the Ambassador Extraordinary and Plenipotentiary of India to Armenia Suresh Babu who was finishing his diplomatic mission in our country. Stressing the present high level of Armenian-Indian relationship Taron Margaryan highly appreciated the role of India's Ambassador in Armenia and the role of Armenia's Ambassador in India.
Expressing gratitude for effective cooperation and teamwork the Mayor expressed confidence that the interaction between Yerevan Municipality and the embassy will go on being constructive and successful.
"Be sure that within its powers Yerevan Municipality is always ready to assist in the work of the embassy. Taking into account that you are finishing your diplomatic mission in our country I want to assure you, Mister Ambassador, that our hospitable Yerevan is always glad to welcome you", said Taron Margaryan wishing the Ambassador success in his further diplomatic activity.
Having thanked the Mayor for warm welcome and for willingness to show any support to the embassy, Suresh Babu in his turn expressed confidence that taking into account the current pace of Yerevan development and the Armenian-Indian friendship, mutually beneficial cooperation will be established between the capitals of the two countries as well.
"Mister Mayor, within these three years I had the honour to be the Ambassador Extraordinary and Plenipotentiary of our country in Armenia, many delegations from India visited Yerevan and I assure you that everybody was impressed with the beauty, cleanness and convenience of Yerevan. Today, taking the opportunity I want to express my admiration with the work you have carried out in Yerevan which in its turn is one of the important aspects contributing to the establishment of effective cooperation between the two capitals", said Suresh Babu.