News
Taron Margaryan: "Show any possible support to the citizens who aren't able to eliminate the consequences of the damage caused by the wind on their own"
24.05.2016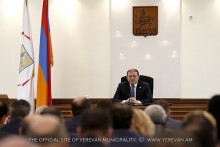 During the regular working meeting in the City Hall which was chaired by Mayor Taron Margaryan it was reported that the strong wind happened the previous day caused significant damages to various infrastructures of the city economy.
In particular, it was reported that roofs of 106 buildings and constructions had been damaged, 63 accidents had been fixed in external lighting system including fallen pillars, broken street lamps, damaged cables. Numerous trees, advertisement boards, road signs and traffic lights fell down. Taking into account the volumes of the damage Mayor Taron Margaryan instructed to form a working group, to study and inventory the problems caused by the wind and to take corresponding measures to eliminate them.
" The damage is rather significant and in parallel with elimination of the damages fixed in the city infrastructures it's necessary to show any possible support to the citizens who because of their social conditions aren't able to eliminate the consequences of the damage caused by the wind on their own", said Taron Margaryan.
Corresponding services of the staff were instructed to cooperate with state bodies and eliminate the consequences of the accidents appeared in infrastructures restoring their regular work.