News
PM Receives WB Dutch Group Executive Director
07.06.2016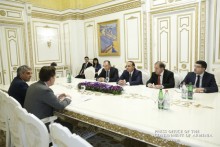 Prime Minister Hovik Abrahamyan received World Bank Dutch Group Executive Director Frank Heemskerk.
Highly appreciative of the ongoing effective cooperation between the Government of Armenia and the World Bank, the Prime Minister noted that it is developing in an atmosphere of mutual trust. Stressing the importance of joint programs implemented with the World Bank in an effort to promote reforms and infrastructure in Armenia, Hovik Abrahamyan expressed confidence that bilateral cooperation will be continued and furthered ahead.
Thankful for the reception, Frank Heemskerk assured of the World Bank's readiness to help the Government build on infrastructure, develop the financial, energy and other sectors. As they focused on the progress and the prospects of bilateral cooperation, the parties refereed to the priorities and programs of Armenia-World Bank cooperation in 2014-2017.