News
Mayor Taron Margaryan met with the newly-appointed Ambassador Extraordinary and Plenipotentiary of Kazakhstan to Armenia
07.06.2016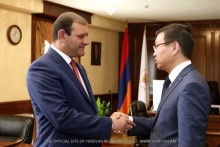 Yerevan Mayor Taron Margaryan met with the newly-appointed Ambassador Extraordinary and Plenipotentiary of Kazakhstan to Armenia Timur Urazaev. Congratulating the Ambassador of starting his diplomatic mission in Armenia and wishing him success in the responsible work the Mayor of Yerevan expressed confidence that the established warm relationship with the embassy will be continued which in its turn will contribute to the establishment and strengthening of partnership between the capitals of the two countries. Outlining the fact that signing of the cooperation agreement had already been arranged between Yerevan and Astana the Mayor expressed confidence that after its ratification, cooperation in various spheres of urban economy will be established between the two capitals.
Expressing gratitude for warm welcome Ambassador Timur Urazaev in his turn stressed that within the frames of his powers he will do his best to promote partnership establishment between Yerevan and the cities of Kazakhstan. Stressing the particular importance of signing the cooperation treaty between Yerevan and Astana, the Ambassador noted that it is an excellent possibility to make the cooperation more practical.
At the end of the meeting Mayor Taron Margaryan once again stressed that Yerevan Municipality is ready for further expansion of cooperation.