News
Clear, coherent regulatory environment to be created for investors in urban development
16.06.2016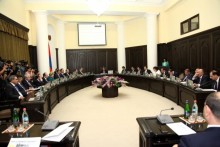 The Government amended one of its previous decisions, which seeks to create a clear-cut and coherent regulatory environment for investors in urban development with the maximum simplification of conditions in relation to the degree of risk for the presence of the facility under construction. It is proposed to conduct a comprehensive examination by the Prime Minister-created Expert Committee, acting in the authorized body of the system, with the involvement of relevant specialists interested bodies.
The Commission is preparing a comprehensive state expert opinion based on the conclusions of government bodies pertaining to this town-planning document or agreement with them. State comprehensive expert opinion approved by the head of the authorized body and is provided to the customer.
Hovik Abrahamyan noted the importance of the decision, stressing that the transition to the issuance of electronic construction permits is a right decision. As the Premier said, the decision will help reduce corruption risks in this area.
The Government adopted a resolution "On organization of procurements of design works and technical control and communication paths transfer services under the program of rehabilitation and improvement of the interstate road M6 Vanadzor-Alaverdi-Georgian border." According to the justification, rehabilitation program and improvement of interstate highway M6 Vanadzor-Alaverdi-Georgian border is currently being prepared, which aims to overhaul and modernize the main transit line of a length of about 90 km of Vanadzor-Alaverdi-Georgian border, linking the Republic of Armenia with Georgia.
The meeting next approved a list of permitted activities in the field of chemical industry in the administrative territories of Dilijan community of Tavush Marz, with the exception of Dilijan national park. In particular, the list includes the following types of activities in the chemical field: in the manufacture of soap with no presence of hazardous materials and waste and the production process is carried out by the closed loop, whereby the waste is formed.
The resolution will allow the authorities; on the one hand, to rule out such activities in the administrative territory of Dilijan community in the field of chemical industry as may jeopardize the process of creating the most favorable for the environmental community environment, and on the other hand, create jobs for community residents.
The Government decided to take back the buildings currently run by the Ministry of Justice and Syunik Marz administration and assign to the Ministry of Labor and Social Affairs in order to accommodate the integrated social services in the cities of Aparan, Goris, Kapan, Gavar and Abovyan.
Attaching great importance to the rapid and timely implementation of the program, Prime Minister Abrahamyan gave relevant instructions to the Minister of Territorial Administration and Development and the Minister of Labor and Social Affairs.