News
THE NEWLY APPOINTED AMBASSADOR OF INDIA PRESENTED HIS CREDENTIAL TO PRESIDENT SARGSYAN
17.06.2016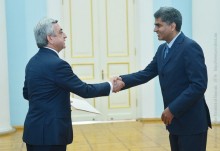 Today, the newly appointed Ambassador Extraordinary and Plenipotentiary of the Republic of India to the Republic of Armenia Yogeswar Sangwan presented his credential to President Serzh Sargsyan.
The President of Armenia congratulated the Ambassador on his appointment and expressed hope that during his tenure Ambassador Sangwan will make his best to further strengthen friendship and cooperation between the two nations and two states.
Noting that next year will celebrate a jubilee in the modern history of India and Armenia -the 25th anniversary of the establishment of diplomatic relations, President Serzh Sargsyan underscored with satisfaction that in recent years the Armenian-Indian relations have been developing in the atmosphere of mutual understanding and trust which has manifested itself in almost similar approaches to the regional and international issues.
The interlocutors concurred that there is great potential for cooperation in all areas – political, economic, humanitarian, and others. Serzh Sargsyan expressed hope that the newly appointed Ambassador in coming years through his direct participation and active efforts will work towards revealing that potential and its full realization.
The President of Armenia and Ambassador of India regarded as promising a cooperation in a number of area such as agriculture, health care, development of infrastructure, education, culture. They also stressed the importance of expanding the legal field.
Ambassador Yogeswar Sangwan assured that throughout his diplomatic mission in Armenia he would do his best to promote and deepen the Armenian-Indian relations.