News
Prime Minister receives a delegation of French department of Bouches-du-Rhône Council headed by the President of the Council
20.06.2016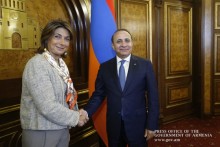 Prime Minister Hovik Abrahamyan received the French department of Bouches-du-Rhône Council President Martin Vassal delegation. Note that Bouches-du-Rhône is one of the largest departments of France, which is comprised of 119 cities.
The Prime Minister noted that the Armenian-French relations are based on solid friendship, and the evidence of the exemplary cooperation established between the two countries is not only a high level political dialogue and broad participation in various sectors of the economy of the French business circles. The Prime Minister noted that a great contribution to the development of bilateral relations between the French community, and thanked the French authorities for their respectful attitude to the Armenian community
Hovik Abrahamyan highlighted the visit of the delegation headed by Mrs. Vassal in terms of Armenian-French decentralized cooperation development and pointed out that it contains a great potential for development of economic ties.
The Prime Minister noted that the nearly 2 dozen provinces and municipalities, including Yerevan, effectively interact with sister cities and regions of France, including Marseille populated, and the visit will promote the deepening of bilateral cooperation decentralized.
For her part, Mrs. Vassal said she was happy to visit Armenia and had been impressed by the considerable progress in our country. She said to have visited Etchmiadzin to attend festive events dedicated to the 10th anniversary of the French clinic "Etchmiadzin 13", which operates "Altitude 5165" under the patronage of the French organization (Marseille), then visited the Memorial to the Victims of the Armenian Genocide and pay tribute the innocent victims.
Martin Vassal expressed satisfaction with the implementation of joint projects between Armenia and the Bouches-du-Rhône department, and stressed that the department will continue to assist Armenia to develop and strengthen.
The meeting discussed issues related to expansion of decentralized cooperation between Armenia and the Bouches-du-Rhône department. The parties agreed to establish a joint working group that will deal with developing and implementing future projects.
The two sides also exchanged views on regional issues and the Nagorno-Karabakh conflict settlement and 2016. Azerbaijan initiated large-scale attacks along the line of contact between Karabakh and Azerbaijani forces in early April. The Prime Minister said that Azerbaijani unleashed an unprecedented operation that was an overt manifestation of Azerbaijan's downfall, Nagorno Karabakh conflict and the Armenian armed forces managed to repel the enemy. Both sides considered it unacceptable large-scale military actions against Artsakh and noted the importance of peaceful settlement of Nagorno Karabakh conflict within the OSCE Minsk Group.