News
Taron Margaryan: "Vernissage" will become one of Yerevan's visiting cards and we'll be able to provide full presentation of the city culture
23.06.2016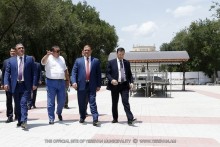 During the working visit Yerevan Mayor Taron Margaryan watched the process of implementation of the program of reconstruction, modernization and improvement of "Vernissage" which is located in the area of Main avenue. The aim of the investment program being carried out by the instruction of the Mayor of the capital is to make "Vernissage" a presentable and convenient public area. Presenting Mayor Taron Margaryan the details of the work provided and being realized by the first stage of the program the persons in charge said that currently renovation of tiled covering is going on and trade stalls are being installed in parallel.
"We have set a concrete task before the leaser- to improve the area. This part of the city needs reconstruction particularly taking into account the fact that we have completely arranged the park adjacent to it and today this park is one of the favourite recreation zones of the residents. The activities provided by the first stage of the program have almost been over, and the second stage will start in a month. All suggestions have been taken into consideration in the project and I am sure that due to the teamwork of the specialists, architects and all interested parties we will get an excellent result. Having about 20-year history "Vernissage" will become one of Yerevan's visiting cards and we'll be able to provide full presentation of the city culture. Being located in the centre of Yerevan this areas will be well-arranged and comfortable both for people engaged in commerce and for the residents and guests of the capital", stressed the Mayor.
Within the frames of cooperation between the Municipality and private sector, in parallel with the regulation of the activity about 2000 entrepreneurs, comfortable conditions will be provided for tourists, for organization full recreation and entertainment. Fountains, drinking water fountains are being constructed, the system of external lighting is modernized as well. After finishing the construction the area will be landscaped, benches will be placed. Within the frames of the improvement program particular attention will be paid to the design of the pavilions which will outstand with the elements of Armenian culture.
Mayor Taron Margaryan instructed the persons in charge to set rigid supervision over the quality and the schedule of the work.