News
PRESIDENT SERZH SARGSYAN RECEIVED THE US ASSISTANT SECRETARY OF STATE FOR EUROPEAN AND EURASIAN AFFAIRS BRIDGET BRINK
27.06.2016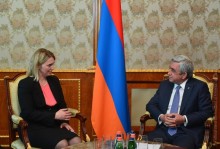 President Serzh Sargsyan received today the US Assistant Secretary of State for European and Eurasian Affairs Bridget Brink. The President of Armenia welcomed the guest and stressed the importance of regular visits which, according to the President, have a positive impact on the development of the interstate relations in different areas. Considering that the agenda of Ms. Brink's visit to Armenia includes also current activities of the Armenian-American intergovernmental Task Force, Serzh Sargsyan noted that the Armenian side is getting ready for the next session of the Task Force in fall, which will take place in Washington.
The President of Armenia hailed the continuous assistance of the United States aimed at Armenia's economic development, reforms in various areas, strengthening of democracy and civil society and expressed gratitude to the Government of the US for the incessant efforts to maintain stability in the region.
Ms. Brink spoke about her impressions of the meetings held in the framework of her visit to Armenia with state officials, young entrepreneurs, representatives of civil society, and parliamentarians as well as about works aimed at the proper organization of the next meeting of the US-Armenia Task Force.
Noting that even though she has arrived to Armenia mainly to focus on the economic cooperation, Ms. Brink expressed confidence that stability and security in the region, including the settlement of the NK problem, will considerably promote economic development and regional prosperity. In this context, she inquired about the results of the meeting held recently in Saint Petersburg on the NK issue and on President Sargsyan's viewpoint on a possibility of progress in the process of resolution of the conflict. President Sargsyan spoke in detail about the latest developments in the peace process.
At the meeting, the parties referred also to the reforms implemented in Armenia, steps aimed at the development of the Armenia-EU relations, and other issues of mutual interest.