News
PRESIDENT ATTENDED THE OPENING CEREMONY OF THE MULTI-APARTMENT COMPOUND BUILT IN THE FRAMEWORK OF THE SOCIAL HOUSING PROGRAM
28.06.2016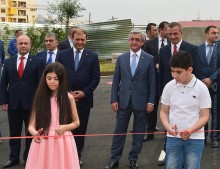 The President of Armenia, Chairman of the Board of Trustees of the Yerevan State University Alumni Association Serzh Sargsyan today at Avan administrative district of Yerevan participated at the official opening of the multi-apartment compound built in the framework of the Affordable Housing Social Program for Young Specialists of the Yerevan State University Alumni Association.

The President of Armenia toured the compound, visited apartments of the beneficiaries, familiarized with the works and living conditions. Officials of Armenia's Electric Networks briefed President Sargsyan on the modern electricity meters installed in the compound. New electrical meters were demonstrated to the President of Armenia on April 23 at the Cascade Holding which belongs to Tashir Group during the President's visit to the enterprises which are producing new licensed electrical appliances.

Four hundred ninety beneficiaries were able to acquire apartments in the framework of this housing program. The target group of the program comprises young professionals from the area of information technologies and telecommunications, banks, and credit companies, young teachers, journalists, physicians, lecturers, scientists and art workers, state and community employees.

Apartments were sold to the young professionals of the target group at a price which is considerably lower than the market price. Multi-apartment buildings constructed at the Tsarav Aghbyur 55/17 and 55/20 are made of reinforced concrete with tuff and basalt facing. They comprise 14 stories, underground parking for 112 vehicles, and modern street lighting. The adjacent territory has been beautified, communication lines have been renovated, and green zones have been created. To provide for personal services of the tenants, a trade and services center has been constructed in the backyard of the compound. Over 85 percent of the apartments submitted to the beneficiaries have been totally renovated.

The total cost of the housing program is close to 10.8 billion AMD. Nearly 700 workers were employed for the realization of this project.
Also today, the President attended the opening ceremony of the renovated administrative building of the Yerevan Investigative Department of the RA Investigative Committee located at P. Sevak 4 in Kanaker-Zeitun administrative district.